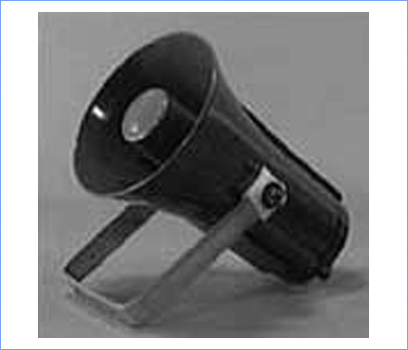 Introduction
PLANT COMMUNICATION SYSTEM (PCS) Is IP-Communication Server based "Public Address System with Talk Back Facility" for two-way communication IN FULL DUPLEX. The system is suitable and is certified for use in both hazardous areas and safe areas (i.e. non-hazardous areas) of the Plant facility. IP communication server is pure IP based system, with Hybrid capability to TDM enable digital and analog stations. It supports Analog Terminals, Digital Terminals and VOIP terminals. It also supports Analog Trunk, Digital Trunk and VOIP trunk.
Functions:
The system is mainly used in industrial plants & facilities for the following inter-plant communication functions.
 For communication between plant's Central Control Room (CCR) & the Field Operators
 For communication between different Field Operators, working in different areas within the plant
 For PA-GA (public address & general alarm) function. This provides Automatic broadcasting of "stored safety voice messages / alarm tones" over public address system during emergency situations
 For communication between individual plants, in case of multiple & separate plant environment
 For communication between Public Address system and EPABX / Telephone system
 For communication between Mobile telephone users with Public Address System And many more….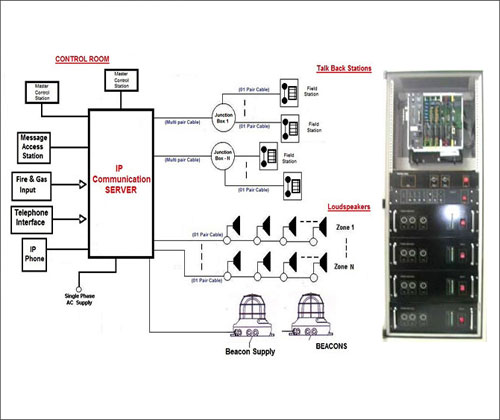 Communication Channels:
The communication channels of the system comprises of Page Channel and Party Channels. The system has Multiple PAGE CHANNELS and Multiple PARTY CHANNELS and these are used by the users for the two-way communication with each other.
Construction:
The system is suitable and is certified for use in both hazardous areas and safe areas (i.e. non-hazardous areas) of the Plant facility. The Field Handset Stations and Field Loudspeakers are available in (1) Indoor Type - for indoor room areas, (2) weatherproof type – for safe (non-hazardous) areas and (3) Flameproof / Explosion proof type - for hazardous areas of the plant.

Operation of the system is very simple and the connectivity between the users is immediate. The calling person first makes the announcements over the loudspeakers of the system. On hearing the announcement, the called person – using the field handset station - communicates back to the calling person. The calling person (either control room operator or the field operator) selects the desired plant area / zone from his unit, makes paging announcement for the required person and remains system connected. The announced message immediately gets heard over the loudspeakers of that selected area/zone. On hearing this announced message, the called person goes to any of his nearest field station - lifts the handset - dials access code and gets automatically connected to the calling individual. The two way communications in private mode is established between these two users
Key Features :
 IP communication server based PA system
 Paging + Alarm Broadcasting Facility
 No use and No requirement of AC Mains supply in the field
 Master – Slave configuration facility
 Direct & Instant connectivity between the control room operator and the field operators
 Direct & Instant connectivity between the field operators
 Connectivity / Communication between the field operators with the help of Master control desks
 Zoning Facility for Announcements
 "Paging Meet – Me access" feature
 Facility for broadcasting emergency siren alarm tone over system loudspeakers
 Digital display facility at Control desk (in control room) that displays field caller's identity
 Multiple call handling facility
 System Monitoring facility to prevent misuse of the system
 Unauthorized Access to system features can be restricted
 Hotlines between the users
 Open system architecture for easy integration of PA system with other systems
 IP to IP connectivity of different PA systems
 IP to IP connectivity of PA system with Telephone System
 Easy to Build, Easy to Operate and Easy to Expand
Key Advantages :
 State of the art technology based on IP communication server
 Software programmable
 Simple, Reliable and Most economical field cabling
 Very Cost effective design and hardware
 Modular architecture based
 Centralized monitoring of the system operation
 Reduced and easy maintenance
 High flexibility and Easy adaptability
 100% Non-blocking communication facility to all the users