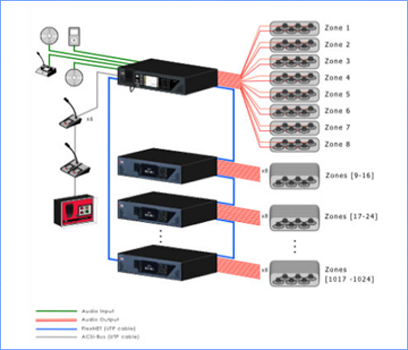 Introduction
The new PA-VA system is a state of the art, reliable and robust voice alarm system (VA) that ensures an outstanding performance in the most demanding situations. Its versatility makes it a cost-effective & powerful Public Address (PA) system, Voice Alarm (VA) system and Background Music System (BGM) that is suitable for all types of installations regardless of its size. The system is especially designed to fulfill the most stringent requirements of the EN 54-16 and the EN 60849 standards.
Meets and exceeds the latest safety standards:
The system offers supreme performance and reliability. Created with the most rigorous scheme designs, it has specific functions for a complete monitoring of the system, for loudspeakers lines and microphones surveillance, for backup amplifier automatic switchover, for direct management of pre-recorded messages and a front panel with full indicators and manual controls.
A more robust distributed system
It can be part of a distributed network system where each element intelligently communicates with the others, making the system more robust because it will be up and running matter what happens.
Easily scalable
It is suitable for any installation size, whether is a small local system or a big complex multi-zone system. Thanks to its unique modular design, limitations from outdated systems are over, because with this system we can have unlimited inputs and unlimited zones.
Real zone differentiation
The system offers a real differentiation of zones, allowing audio to be distributed in a personalized and optimized way to each area. In this manner, background music, commercial messages, warnings or any other desired input will reach just the right zones, without disturbing the others.
Guaranteed professional audio quality and intelligibility
NEO is at the same time, a professional audio system with an integrated DSP and 24 bits digital audio output per channel, assuring audio quality in any zone. It also incorporates the LDA Dynamic Sound Adjust technology which allows a dynamic volume adjustment in order to always have an intelligible and clear sound.
Management, control and monitoring in the cloud
It can include the user-friendly IT platform SIME, to easily manage, monitor and control the full system and its components remotely (using a tablet, smartphone, PC or Mac). With SIME, anybody with the appropriate access level can operate the system in an intuitive way. Among its many features, SIME offers automatic message scheduling, allowing announcements to be heard always at the right time and place.
Safety above all
In case of evacuation the background music will be automatically switched off per zone to activate priority inputs such as the pre-recorded emergency messages. At the same time, the fireman microphone integrated in the system's front panel or in an outdoor panel, can be rapidly routed to the chosen zones so that authorized personnel could perform a directed evacuation.